VALENTINE'S DAY GIFT IDEAS THAT YOUR PARTNER WILL FALL IN LOVE WITH
Valentine's Day should always be filled with romantic gestures, lots of fun and the right amount of delicious chocolates and treats. This is the only day every year in which we can all be as in love as our soul desires. However, we are ready for anything in the name of love!
This year, here at XY-GIFT, we decided to get rid of all the brakes and experience Valentine's Day in the best possible way. After the last years, when everything was uncertain and the anxiety had settled permanently in our home, it is time for a change.
---
Therefore, this St. Valentine's Day will be the best planned so far. We will enjoy specially selected, luxurious gifts and express our love for our loved one in the most original, beautiful and stylish way. Final goal? To feel happier more in love than ever, spending a well-planned day devoted to love.
Whether you've been together for a year or ten, Valentine's Day is the perfect opportunity to pay tribute to your love and rekindle the spark. Here are 10 ideas for a different St. Valentine, which will make you even more in love with each other.
Have an indoor picnic
February is not the best time to have a picnic in the park, but it's a great time to have a picnic indoors … on the carpet in the living room, to be exact. All you need are a few cozy pillows, scented candles, a colorful blanket and one of our gourmet boxes. Choose one that suits your tastes and you will get the right wine or liqueur for it. All you have to do is enjoy a wonderful evening.
Plan a treasure hunt for Valentine's Day
Treasure hunt is always a fun and safe way to pamper your partner on Valentine's Day. Get small gifts and scatter them all over your home. Then give your partner initial guidance and let him discover all the surprises.
Go for a wine or beer tasting
This year, plan a virtual tasting of different wines. Choose wines from France and Italy, get the right appetizers for them. Wrap each bottle in red paper and together with your loved one try to guess which wine is what. You will definitely have fun.
Organize a romantic movie night
There is nothing better than a romantic Valentine's Day movie, so create your own private cinema in the comfort of your own home. Use a projector for a touch of realism and arrange the sofa, blankets and pillows ready for cuddling. Stock up on a romantic gourmet basket from our range. Add popcorn, candy and cuddling mood to get a wonderful evening.
Enjoy the Chocolate Fest for couples
Chocolate is a mandatory element for every St. Valentine. But if you want to make it a staple for this year's St. Valentine, make a chocolate fondue. Choose different types of chocolate to melt. Cut your favorite fruits, add nuts and sweet treats. And don't forget the good wine to complete the picture for a perfect chocolate evening.
Prepare dinner together
The preparation of an exquisite dinner together on the day of St. Valentine's Day is a great way to spend quality time together. Cook your favorite dishes and make sure there are at least 4 to bring a sophisticated feel. Make sure you also have a selection of premium wines to open with each different course as true connoisseurs. Dress elegantly for the occasion and decorate the room and table with fabulous lights or flickering candles.
Organize an evening with cocktails
For those who love the fresh tastes and sophistication of cocktails, a cocktail night for St. Valentine's Day would be a great solution. Get a chocolate gift basket and all the ingredients for classic Valentine's Day cocktails, such as strawberry daiquiri or raspberry mojito. Get ready to create and taste romantic cocktails.
Serve breakfast in bed
If you want to turn St. Valentine's Day is a wonderful day for a loved one, start in the morning. Serving breakfast in bed is a great way to show your love. Make your favorite things for breakfast: pancakes, waffles, eggs, avocados or toast and cut them into a heart shape for an extra, romantic feel. Add to this a basket of treats and sparkling wine and you will get a wonderful morning to start Valentine's Day.
Romantic spa day at home
If you want to spend a quiet, relaxing St. Valentine, organize a spa day with your loved one. Spend the day in bathrobes and take turns doing beauty treatments and massages. Don't forget to play relaxing music and light scented candles.
Plan a romantic date
If you can, organize a romantic getaway for one night. It can be near your city or even in the city where you live. Book a room in a fancy hotel, order room service, scatter rose petals everywhere and light scented candles. Be sure to get a bottle of Chandon sparkling wine for extra enjoyment and enjoy your company.
Happy Valentine's Day from XY-GIFT!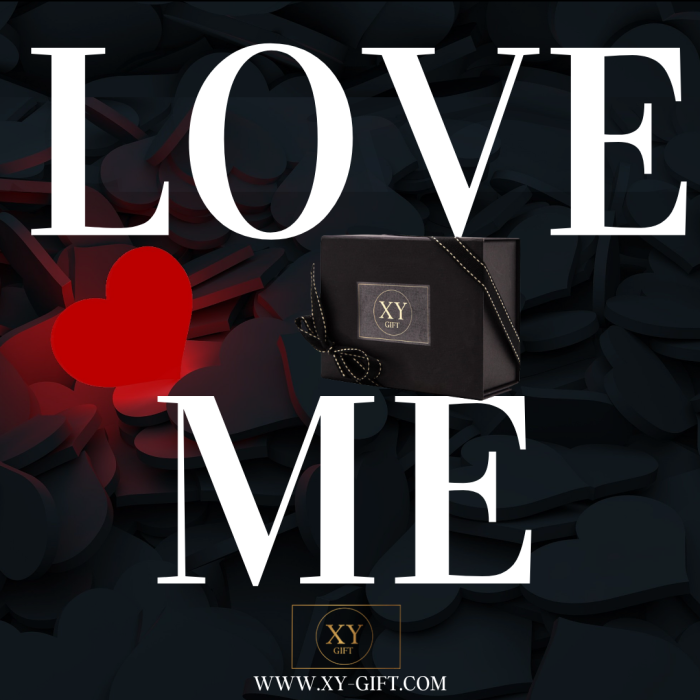 February 14 is just one day, but it is also a chance to fill your life with joy and love. Decide to make it extremely special this year and give freedom of romance in yourself. Order a gift basket full of treats and enjoy a romantic gourmet experience with your loved one, and we will make sure it arrives on time, luxuriously packaged and ready to be included in your romantic evening.